Meet the Artist
---
As an artist the ever changing landscape is a source of inspiration for my paintings.  I love to watch the light, to study the skies, to see the colours change through the seasons and observe all the changes and the beauty of nature.  There are such a diversity of landscapes, from that of the rugged hills and coastlines of Shetland scenery, the Mountain Ranges of Canada, the fjords of Norway, there are so many unique places all over this world, sunsets, misty mornings, there is so much to capture.  I hope to bring these scenes to the viewer, to look into the Painting, to feel the moment in time, the sense of place, of history, to experience the landscape brought to life on canvas.
When beginning a painting I take a lot of time to really study all aspects of the scene and consider how best to re-create and breathe life into it as a painting. Often I make hand written notes of thoughts and ideas along with sketches and photographs which can then be used back in the studio.  My passion is with pastels. I love them as a medium for depicting dramatic skies, they really come into their own, blending velvet textures with superb colour that are at the heart of the landscape in the painting.
I was born and live here in the Shetland Isles. The Shetland Isles are a group of islands which form the most northerly point of the United Kingdom, a 12 hour boat trip or 1 hour plane ride away from the Scottish mainland. The islands are fairly remote and rugged, windswept and wild.  The light is ever changing, living so close to the arctic circle we have in the summer, the 'Simmer Dim' where in the summer there is very little darkness, the sun sets only for a brief time and there can be 19 hours or so of daylight with the rest being a soft twilight.  In the winter of course the opposite is true with long dark days however the colours of the sunsets are majestic, the skies can truly blaze with colour, the power of the winter storms as the North Sea and the Atlantic Ocean pound the islands are incredible to watch.  I feel privileged to live and work in such a beautiful and unique place.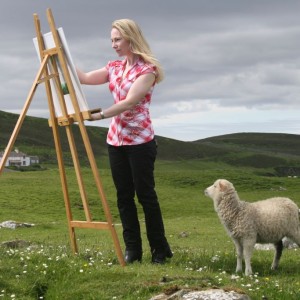 Here in Shetland today I combine painting with running a small croft (farm) where I own a small flock of native Shetland sheep, its hard work but I love it, its a way of life and is a much a part of me as anything could be.   To walk my croft with only the call of the sea-birds, the hush of a seal, the peep of an otter, the ripple of wind through meadow grasses and wild-flowers inspires my imagination and the desire to paint and create.