Landscape Paintings by Artist Donna Marie Woodhouse
---
Note start 2021
The website has been down for a little while and is now back online, however a few gremlins seem to have got into the system with some links and pages not working as they should.  I am working on fixing these and a little bit of site re-construction at the same time, so a good freshen up for 2021 to come.  I'm looking forward to sharing some new work, new blogs, store and more with you in the months ahead. 
In the meantime if you have any questions or would like to purchase some artwork please do not hesitate to get in touch.  Send me an email me at dmwoodhousefineart@hotmail.com or contact me on  +44 07340691835
Hello and welcome to my website D M Woodhouse Fine Art® showcasing my original fine art paintings.  I am a rural landscape artist, living and working in the Shetland Isles, the most northerly islands in the UK.  I work mostly in soft pastel however I also paint in watercolour, oil and acrylic.  Inspired by the landscape, the ever changing qualities of light and the beauty of nature, I paint to capture these wonderful images and translate them into fine art paintings.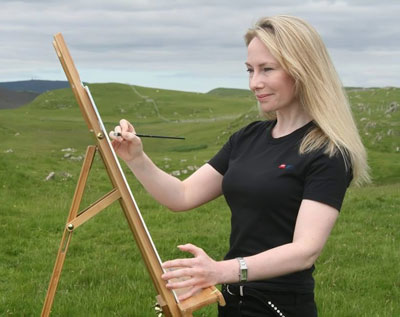 Browse my Gallery to view my collections.
Meet the Artist, see what inspires my work and behind the scenes.
Visit my Blog for updates on my work, upcoming events, artist and painting reviews, information on methods of painting and more.
See Testimonials for lovely reviews from past clients and invitations from Galleries.
I hope you enjoy seeing my art and looking around my website.  If you have any questions please do not hesitate to contact me.
..