Landscape Paintings by Artist Donna Marie Woodhouse
---
Hello and welcome to my website D M Woodhouse Fine Art® showcasing my original fine art paintings, giclee prints and greetings cards.  I am a rural landscape artist, living and working in the Shetland Isles, the most northerly islands in the UK.  I work mostly in soft pastel however I also paint in watercolour, oil and acrylic.  Inspired by the landscape, the ever changing qualities of light, seascapes and the delightful scenes that I happen across on my travels I paint to capture these wonderful images and translate them into fine art paintings.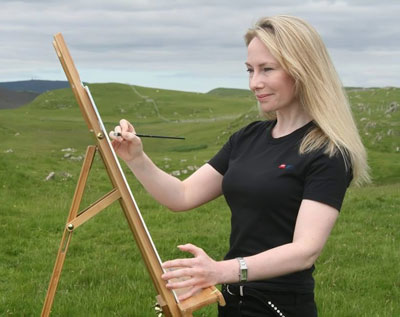 Please feel free to browse my Gallery to view my collections and have a look around the site.  If you have any questions please do not hesitate to contact me.  If you would like to make a purchase of an original painting, giclee print or greetings card simply click on my online store where payments can be made securely via paypal.  I ship both within the UK and internationally.
Visit my Blog for updates on my work, upcoming events, artist and painting reviews, information on methods of painting and more.
It is extremely important to me that all my works are completed with the highest quality artists materials.  This ensures the quality, longevity and archival properties of your finished painting, prints and greetings cards.  It is my wish that my clients get pleasure from my work for many, many years to come.
..