Critic Review of Exhibition, "Shetland Collection & Other Works"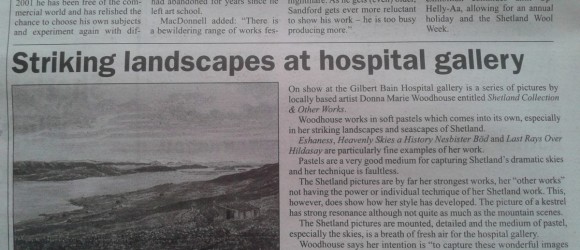 Following on from my solo exhibition at the Gilbert Bain Gallery I would like to pass on the review of my work by critic Stephen Gordon.  In this Exhibition the main feature was to show-case my current series of Shetland Landscapes done in the medium of soft pastel. I also displayed a variety of other works to show a variety of mediums and content, a selection of three wildlife paintings two done in oil pastel and one in watercolour, three landscapes two done in oil and one in acrylic.  I would like to thank the Gilbert Bain Gallery for the Exhibition space and am glad to have been able to have donated money toward Hospital funds.  I would also like to thank Stephen Gordon for his critical review of my work.
STRIKING LANDSCAPES AT HOSPITAL GALLERY – By Stephen Gordon
On show at the Gilbert Bain Hospital Gallery is a series of pictures by locally based artist Donna Marie Woodhouse entitled Shetland Collection & Other Works.
Woodhouse works in soft pastels which come into its own, especially in her striking landscapes and seascapes of Shetland.
Eshaness, Heavenly Skies & History Nesbister Bod and Last Rays Over Hildasay are particularly fine examples of her work.
Pastels are a very good medium for capturing Shetland's dramatic skies and her technique is faultless.
The Shetland pictures are by far her strongest works, her "other works" not having the power or individual technique of her Shetland work.  This does however show how her style has developed.  The picture of a kestrel has strong resonance although not quite as much as the mountain scenes.
The Shetland pictures are mounted, detailed and the medium of pastel especially the skies, is a breath of fresh air for the hospital gallery.
Woodhouse says it is her intention to "capture these wonderful images and translate them into fine art paintings".