Coming soon to Cinema Screens – "Mr Turner"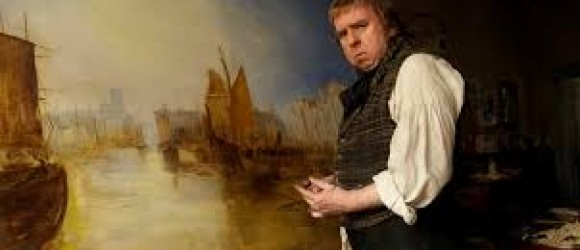 Click here on the Link in gold to watch the Trailer for  "Mr Turner"
Just to let you know to keep an eye out on your local cinema timetable for the upcoming film "Mr Turner" on general release from 31st October.  Actor Timothy Spall plays the lead role of Joseph Mallord William Turner in his last 25 years.  A grumpy, crotchety, cantankerous man deeply affected by the death of his father, the film shows the complex relationships with those around him, he is loved by his gentle housekeeper with whom he dallies with on occasion, his rejection of his children and their mother, one of two of his mistresses, and his later relationship with his seaside landlady with who he lives until his death.   Turner's relationship with the Royal Academy of Arts was at times fiery, for Turner was a radical Artist not afraid of experimentation, the pursuit of his goals leading him to walk the moors alone and such exploits as tying himself to the mast of a ship so that he could paint a snowstorm, he was daring, fearless, determined, stubborn and single-minded.
Director Mike Leigh describes Turner as "a great artist: a radical, revolutionary painter," explaining, "I felt there was scope for a film examining the tension between this very mortal, flawed individual, and the epic work, the spiritual way he had of distilling the world."
Director Mike Leigh has a close attention for detail and determined that actor Mr Spall should not pretend to paint during the film but to be proficient in painting led to Mr Spall undertaking 2 years of art instruction prior to filming with accomplished artist Tim Wright, who was also later on hand during filming to oversee and assist in the painting scenes.
The era in which the film is set, is in a way, like Turner himself, it was radical, it was revolutionary, it was the time of the dawning of the industrial era, new technologies, railways, photography, the 'modern' age was coming.  In the film there is a scene where Turner witnesses "The Fighting Temeraire" the old warship being towed into harbour by a modern tug, which of course became one of his most famous paintings and my personal favourite.  Back on the 23rd April (Mr Turners birthday) I wrote a short article on my Facebook page about this Painting.
Facebook Article 23/o4/14 – "It is the birthday today of the late J.M.W Turner 23/4/1775 – 19/12/1851 and I thought I would share with you one of my favourite of his Paintings. "The Fighting Temeraire" Painted 1839. I find this to be a very emotive and poignant painting. This mighty battleship which played an important role during Nelson's victory at the battle of Trafalger has fought her last war. The sun is setting in the Painting as history also sets on the warship. Her time has come to a close, no more will she sail into the sunsets, now turned away and being brought in by the tug-boat to be de-commissioned and broken up. I feel there is the sense of the passing of something which once was great, not just the warship but also of an era coming to a close. The Painting I feel almost like a salute in her honour and that her passing and the decline in the strength of the British navy has not and will not go un-noticed. There is so much in this Painting, details, symbolism, I love it and could go into so much more depth on it. I'd love to hear though, what are your favourite paintings by Turner?"
I am looking forward to this movie, I think it will be a rich tapestry of the man himself, his relationships and the era, a glimpse into the life of one of our most famous and iconic Artists.
For those lucky enough to be in Margate on the 31st October  you can take advantage of a two-day self-guided tour being offered by the Turner Contemporary Gallery from the 31st October to 30th November.  For more information and details about this tour see www.turnercontemporary.org  If any of you have the chance to go along and do the tour I'd love to hear how you get on and also I'd love to hear what you think of the film, "Mr Turner", I know I'm really looking forward to it.