"The Fighting Temeraire" by J.M.W Turner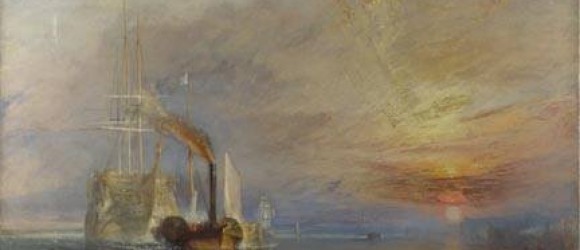 The Fighting Temeraire
I thought I would share with you one of my favourite of Paintings "The Fighting Temeraire" Painted in 1839 by Joseph Mallord William Turner (23 April 1775 – 19 December 1851).
I find this to be a very emotive and poignant painting. This mighty battleship which played an important role during Nelson's victory at the battle of Trafalger has fought her last war. The sun is setting in the Painting as history also sets on the warship. Her time has come to a close, no more will she sail into the sunsets, now turned away and being brought in by the tug-boat to be de-commissioned and broken up.  I find the colours chosen to paint the ship accentuate this feeling as here and in other areas of the Painting Turner used artistic licence, for the ship was actually dark yellow and black however here she is painted in creams, ivory and gold, she is pale which lends an almost ethereal and stately quality to her which contrasts starkly to the smoky, dirty tug steadily pulling her (like the advance of industrialisation)to her fate.  The Painting I feel almost like a salute in her honour and that her passing and the decline in the strength of the British navy has not and will not go un-noticed.  I feel there is the sense of the passing of something which once was great, not just the warship but also of an era coming to a close.  We have to remember the context in which the Painting was painted, it was a time of great change, of 'progress' of industrialisation, urbanisation, out with the old and in with the new, the rise of machines that reduced the need for manual labour, the camera, the train, electric telegraph line… it was a rapidly changing world.  For me personally I feel the Painting embodies a sense of loss rather than an embracement of the new, however that is not to say that Turner did not embrace or indeed relish the 'new', for his painting "Rain, Steam, and Speed – The Great Western Railway" painted 5 years later in 1844 I feel celebrates the power of the steam train and of industrialisation, with a strong composition the train hurtles toward you, in a cloud of mist and steam, she appears, in contrast dark, strong, solid a powerful force, not of nature but of man and the changes he is bringing to the times.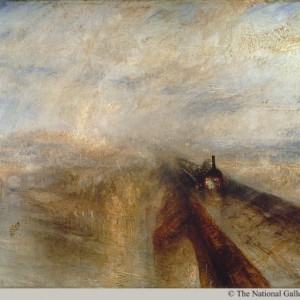 Rain, Steam, and Speed – The Great Western Railway
There is so much in this and his other Paintings, details, symbolism, emotion… I'd love to hear though, what are your favourite paintings by Turner?